London Optical Waves
Optical delivery for full protocol transparency
Multi-10Gbps lowest latency capacity
Protected and diverse options for redundancy
24/7 support with same day repair targets
Available between most major London data centres
New dark fibre installations are expensive to install, often requiring large scale dig works with long lead times. By comparison, our fibre network is already in place, fully tested and supported. By using Wave Division Multiplexing (WDM) we run multiple concurrent optically-isolated circuits over the fibre network between any on-net sites, with terminations as low-cost common 10GBASE-LR (single mode) or 10GBASE-SR (multi-mode) optical presentations. This means new optical wavelength services can be constructed and delivered as quickly as same day and have no hidden charges or administrative overhead to consider. You still benefit from a secure 10Gbps protocol-transparent network, but we take care of all aspects of the end-to-end optical transmission, signal degradation, amplification and optional resilience for you.
Protocol Transparent
This is a layer 1 optical service, so supports any layer 2 protocol (Ethernet, SONET, SDH etc.) up to 10Gbps.
Lowest Latencies
With no reliance on packet switching equipment, your traffic benefits from even lower sub-ms latencies.
Managed Resilience
Single links, protected spans and rings are available, all managed for uptime and signal quality.
Scalable
Volume discounts are offered for circuits across multiple sites and for increased capacities.
Rapid Deployment
Be operational as quickly as 24 hours after delivery of local cabling, compared with weeks for dark fibre.
24/7 Support
Fibres are continually monitored for uptime, with our NOC alerted to faults to attempt a same day repair.
HOW DOES IT WORK?
About Optical Waves or Wavelengths
Expensive dark fibre resources are shared for cost/capacity savings
Each channel uses a non-interfering distinct frequency of light wave
Channels are physically and securely optically-isolated on each side
Each side looks like a directly-connected 10GBASE fibre connection
Amplification is assessed and managed to give optimal signal quality
There is no risk of 3rd party congestion or re-convergence events
There is no dependence on 3rd party complex routing infrastructure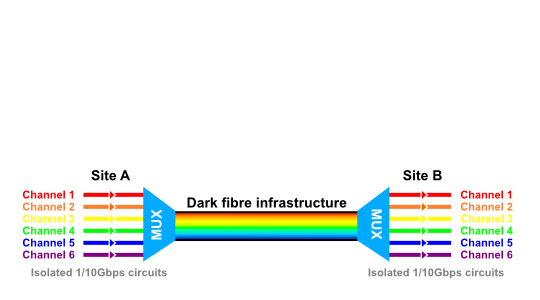 Quick Enquiry
Want to discuss our services further? Contact us using this form, conveniently structured to ask the important questions (* are required fields):
Thank you! Your submission has been received!
Oops! Something went wrong while submitting the form
© 2007-2017 ConnetU Ltd. (company no. 07240948). Registered in England & Wales at 20-22 Wenlock Road, London. N1 7GU.