< Back
London Docklands Colocation Once Again Competitive
Fri, 21 Dec 2012
data centres, colocation
This blog takes a comparative look at the recurring costs for data centres based in London Docklands and those in outer London. The aim is to question the truth behind the common assumption that London colocation costs in Docklands are higher due to their location.
The cost of London colocation for customers is determined by the costs of owning and operating a commercial high specification data centre. Build costs include design planning, construction labour, power and cooling equipment, installation of fire suppression and installation of connectivity conduits (typically fibre). Once the data centre is opened, recurring costs include premises, power, the provision of high capacity networks and staffing.
Complex, industrial scale and reactive fire suppression systems on the data floor
Premises: Some cursory research reveals that, on average, anyone leasing property in Docklands should be expecting to pay about double compared with some outer London locations. Determining exactly where in the Docklands area, or Isle of Dogs, you wish to be can, of course, make a huge difference. Industrial brownfield nearer Canning Town (to the east of the established Telehouse and Global Switch data centres) may provide lower cost options. For argument's sake, let's fix our building costs in the Docklands area as being roughly double the leasing cost in areas such as Surrey.
Anyone leasing property in Docklands should be expecting to pay about double compared with some outer London locations
Power: We could assume that power is cheaper where demand is less – in other words, on the periphery. This may well have been the case ten years ago when London was notoriously short of power. Post Olympics, there is now a potential surplus supply from two new power station developments in Stratford, on the doorstep of Docklands, which new data centres can leverage in the medium term. In summary, it seems unlikely there is much power cost difference between data centres.
There is a potential surplus supply from two new power station developments in Stratford, on the doorstep of Docklands
Rack Density: Older data Docklands centres and suites were not designed with today's virtualisation and high density applications and some still have cooling restrictions leading to 8amp cabinet limits. However, the situation continues to change, with more high-density capacity coming online in the area. Again, like for like at the specification level, Docklands is holding up well with newer builds and retrofits occurring.
Staffing: Like premises costs, staffing costs are pushed higher for offices further into London, as travel and accommodation requirements raise the price of living closer to the city. All in all, an estimate suggests that staffing costs will demand an approximate 15% premium for facilities based in the Docklands area.
Connectivity: This is a significant, often surprising, cost overhead. The price of high capacity connectivity is determined by the prevalence, and ease of supply, of site to site fibre. Central London holds an inherited advantage in this area with the large number of international Internet carriers already located in the area. Furthermore, cable owners, such as Geo Networks, who lease these connections have long since dug the fibre in, or in Geo's case, made use of London's extensive sewerage network – as explained in this video:
A trip down the London sewers to a look at Geo's fibre
This means getting to an important carrier or partner for connectivity could be as inexpensive as just a few hundred pounds one-off charge, and for carriers requiring their own dark fibre (typically lit to 10Gbps) to other Docklands data centres, the majority of the cabling infrastructure is already there so is relatively inexpensive. This has to be contrasted against the huge costs (in some places upwards of £10k per month) of having diverse fibre runs to data centres in other areas, almost all of which connect back to London Docklands to get to the major carriers prevalent in the area.
Fibre Tax: The government levies an annual tax on all operators who send data over fibre optics. Whilst weighted in favour of longer distance connections, taxation for a company backhauling their data 40km to Docklands is around 5 times that owed by a company with a 5km fibre line. The full rateable values can be downloaded from the Valuation Office Registry; the following is an extract from the London area: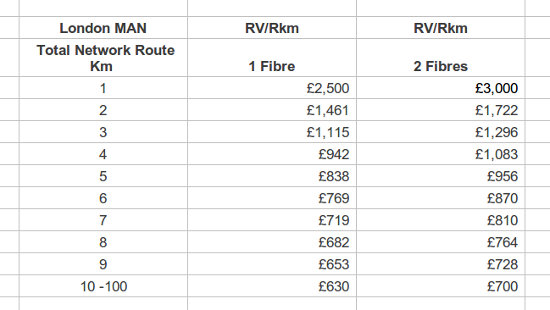 Annual Fibre Taxes, disingenuously known as the 'The Fibre Rent Scale', paid by companies who 'light' fibre
Summary: The true reality of the costs of running an outer London colocation data centre can be seen by this back of napkin graph which shows costs not as figures or units, but in proportions, with London Docklands colocation as a baseline: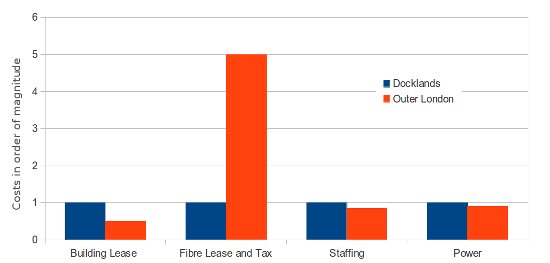 Costs for Outer London (40Km) data centres compared with Docklands as a baseline
As the data centre market becomes more crowded and more capacity comes online, costs for all aspects of commercial data centre operations are being re-examined. Over the past few years, new operators have answered the question about where a data centre can be: anywhere. The question that now remains is, how much is it costing to be there and are customers prepared to accept those costs?
The general assumption is that outer London data centres are cheaper to run than those closer to the centre. In reality, connectivity cost savings for London Docklands data centres are massive, and as the bandwidth requirements of our newer generation of Internet devices increases, this could become the defining factor.